** EXPECTORATIONS**
SEVERAL VOLUMES OF ORIGINAL QUOTATIONS---PROSE,
PARODY, POETRY, PUNS, SATIRE, & HUMOR.
THINK AND LAUGH.

Antique 19th century English stained-glass rose window,
which resides in the ceiling of the author's California home.
He says: "I sit under it every day and pray, that it does not fall on me."
FREE!! ---ORIGINAL QUOTATIONS
Think and laugh at thousands of new thoughts, (prose, parodies, poems, puns, satire and comedy). Readers of Ogden Nash, Longfellow, Keats, and Churchill, say this work is the best new and humorous material to brighten their lives in years. It is a gift for the ages.
CLICK LINKS BELOW OR SCROLL TO NAVIGATE THIS SITE

A WONDERFUL NEW SERIES OF BOOKS IN POETIC FORM WRITTEN BY MICHAEL B. ABRAMSON

MORE ABOUT "EXPECTORATIONS"

READER COMMENTS AND FREE SAMPLE QUOTATIONS

ABOUT THE AUTHOR WITH PHOTOS

AUTHOR'S CHOICES FOR THE WEEK

CUSTOM QUOTATIONS---POETRY---COMMERCIALS---ETC. OR
TO ARRANGE FOR PRIVATE READINGS BY THE AUTHOR

ORDER NOW THE AVAILABLE VERSIONS OF "EXPECTORATIONS"

***DON'T FORGET TO SCROLL DOWN TO THE BOTTOM***
***AND SIGN THE GUEST BOOK***
MORE ABOUT THE BOOKS
Spitting images from the books of "EXPECTORATIONS" by author Michael B Abramson are exhibited masterfully through his quotations, poetry, and free associated rambles.
They will make you think, make you laugh, and maybe even make you cry.
You will love this humorous and often prophetic material.
These books are winners.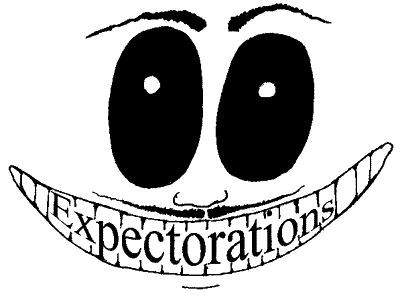 Free association,
Graphic thoughts, mindful interludes,
and poetic license for the literarily impaired. A collection of spitting images,
original thoughts, fantasies,
double-entendres,
poems, puns, palavers,
and platitudinous alliterations,
for whoever wishes to take the time to read them.

" These books contain some of the most thought provoking material I have picked up in years."

"Very interesting interpretation and twist on some old themes."

"The books continue to give me many hours of pleasure."

"I find myself wanting to use many of these quotations in my daily conversations."

"This material makes a great gift for anyone with a healthy sense of humor."

"I continue to read these volumes repeatedly, to ferret out all of their hidden meanings."

"Putting this material down was difficult for me."

"No physician has made me think or laugh this hard in years."

"I will be giving "EXPECTORATIONS" to my friends , and telling others not to miss it."

"Doctor A. is, and has, a master mind."

"A bevy of painters couldn't have painted more interesting pictures with words"
FREE QUOTATIONS FROM THE AUTHOR
(Copyright 2000)

PLAY IT AGAIN
As the mind plays tricks upon the heart,
The heart too plays a wondrous part,
And each together play a role,
To raise the curtain on one痴 soul.
From the deepest hidden mindful crypts,
They値l bring forth laughter, sadness too,
From seemingly once silent lips,
And they値l take a lithe and weary body,
On far out gesticulating trips.
To what end we say? Do all these play?
What is the purpose of this fray?
There is no audience to cheer,
There are no critics in the wings,
There is no one to hear.
But the mind and heart and soul,
And the body which they mold,
Is for each of us a different story,
And even though not heard by all,
It is one that must be told.
All emotions, dreams, desire,
Goals and fantasies and hopes they値l sire,
Laughter, love, sadness, strife,
Each playing on a worldly stage,
Each playing out a different life.
I壇 say perhaps a few around us,
Will be influenced by what we give,
And will change the way they sing and play,
And perhaps the way they stop to live.
But there is one thing, of which I知 sure,
And to deduce it,
I need not be too clever,
For the play that each of us is in,
Cannot last forever.
Yes of that I am now very certain,
So enjoy the play that you are in,
For every play I致e ever seen,
And for every play life shows to us,
There is a final curtain.
Michael B Abramson (aka Poetic Always)
BOOKMARK THIS SITE
POETRY AND QUOTATIONS WILL CHANGE HERE FREQUENTLY

CLICK HERE TO SEE MORE POEMS BY POETIC ALWAYS

ABOUT THE AUTHOR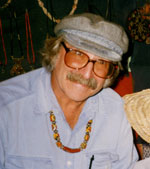 Michael B Abramson (aka Poetic Always) was born in Minneapolis Minnesota, where he spent a good portion of his early life before moving to California. With the background of a Garrison Keeler, and the foresight and persistence of a Winston Churchill, he can be a bundle of laughs, and yet at other times a picture of complacency engrossed in deeper and more meaningful thoughts. His books of, "EXPECTORATIONS," are but a small part of this man's inner self, revealed to us in a relatively simplistic form. Besides being a collector of words and thoughts, the author is a man of many interests. He is a collector of beautiful and often unique objects of art, including the stained-glass pieces you see on this site. As a detailed stained glass window reveals a myriad of changing colors and images of light, so changes the meaning of the author's thoughts and words with his adept use of the English language.
Aside from his creative writing and other numerous talents, the author designs antique African Trade Bead necklaces. Click here to see or purchase one of his beautifully designed unique pieces.
He is a complex, yet in many ways a simple person, a physician, and a teacher, who has spent most of his life showing compassion for others, and helping to bring new life into this world. He has a deep respect for all women, and has delivered thousands of babies. He has helped that many and more women, and their families, to lead happy and fruitful lives. He has been inside the minds of thousands of women, and knows as much as anyone could about them, yet he is the first to admit that no one will ever completely discover what drives such beautiful and complicated beings. He is now pursuing some of his many interests with hope of publishing more of his thoughts to leave for his children and others.
Dr. A. has an unsurpassed sense of humor, and the ability to play mind games with English words. Language, life, love, and laughter, might be his creedos. He himself said: "The world is my playground, and words are what I eat for lunch." His humor and thoughts, are all expressed freely, and with refreshing openness, intending on harming no one. He has many friends, but few close enough with whom to share many of his feelings. We might gather insight into this man by trying to interpret what is between, and behind some of the lines in his enclosed writings, which he describes as: "Spitting images from a man of many words." Besides being a raconteur, he is a loving father, and a person of integrity; a portrait of an artist, perhaps, perhaps not; but a portrait of a kind, unassuming, humble man, willing to share his humor, knowledge, and love with others.

AUTHOR'S CHOICES FOR THE WEEK
DESCRIPTION
Describe to me your hair and eyes,
Your breasts, your waist, your hips, and more,
But tell me please of nothing,
Which you have purchased at the store.
And if you think I知 prying,
Or if you think that I知 too brash,
Surely you may tell me,
To take my questions and my little poems,
(Ha ha I fooled you)
And turn them into ash.
~Poetic Always~
I appreciate your input. You may send me an original poem or quotation which could be published here in future weeks. It will of course be attributed to you if you wish.

E-Mail your poem to:
poem2get@telocity.com

CUSTOM WORK

Custom Quotations, Poetry, Slogans, Jingles, etc.
Any occasion, or subject.
Personalized, unique, exciting, and entertaining.
I also do Commercials.

"YOU CAN'T LOSE"---- " YOU SET THE PRICE"
"You name the subject, the tone, and your wish,
and you'll be surprised what comes up on your dish."
Email your desires, questions, or specifications for your custom order to:
poem2get@telocity.com
When you get your custom quotations,
please send check or money order only---
After you have seen the work and have
determined your price.
TO:
Michael B Abramson---Author
#4 Millbrae Circle,
Millbrae, CA. 94030
USA
(Most custom work will be sent out as soon as possible, but allow up to two weeks, unless you specify that you need it done earlier. Your finished work will come to you via email.


I WANT YOU TO BE SATISFIED
PLEASE INQUIRE ABOUT PRIVATE READINGS BY THE AUTHOR AT:
poem2get@telocity.com

TO ORDER "EXPECTORATIONS"
***VOLUME 1, 2, and/or 3 of EXPECTORATIONS is Available in Print NOW***

CLICK HERE TO ORDER VOLUMES 1 and 2 of poetry, and/or volume 3 of quotations,
IN THE E-MAIL OR IN THE PRINTED BOOK VERSIONS

IF YOU WISH A SPECIAL SIGNED COPY OF EITHER VOLUME 1, 2, or 3,
SEND $18 check or money order per volume (includes S&H)
directly to the author at the address below.


Michael Abramson
4 Millbrae Circle
Millbrae CA. 94030
USA

CLICK HERE To See or Purchase One of the Author's Beautifully Designed Unique African Trade Bead Necklaces.